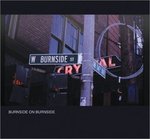 I recently bought a couple R.L. Burnside CDs: "Burnside on Burnside" and "Wish I was in Heaven Sitting Down."
Of the two, I like "Burnside on Burnside" the best. It's a live concert recorded in January 2001 in San Francisco and Portland, Ore.

It's got that raw North Mississippi hill country blues style with "adopted" son Kenny Brown on guitar and Burnside's grandson Cedric on drums,
That disc was made when he was already in his 70s. Listening to that CD, one can only imagine what Burnside was like in his prime on a Saturday night in a juke joint like friend Junior Kimbrough's in Holly Springs, Miss. Cranked up on shine, he musta had the whole place electrified.
Who the heck was R.L. Burnside?
Well, for one, he's dead. He died this past Sept. 1 in Memphis at age 78.
A sharecropper in rural Mississippi, Burnside started playing the blues in 1948, but was "discovered" in the early 1990s. .
It's said he murdered a man, perhaps by shooting him in the back of the head over a $400 gambling debt. It's said he only served six months because the farm he worked on needed him.
"I didn't mean to kill nobody," Burnside once said of the murder. "I just meant to shoot the sonofabitch in the head. Him dying was between him and the Lord."
In "Wish I was in Heaven Sitting Down," he talks about the brief period he lived in Chicago. His father, two brothers and an uncle were murdered within a short span. He moved back to North Mississippi.
He lived and played the blues. He's worth a listen. Here are a few cuts from "Burnside on Burnside" courtesy of the Fat Possumn record label web site.
Yeah, well, well, well.