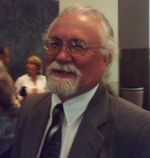 Tags: Journalist | Tom Chester | Newspapers | Knoxville | SPJ | Media
One of the finest journalists in the business was honored Saturday night at the East Tennessee Society of Professional Journalists' Front Page Follies.
Tom Chester, a co-worker at the Knoxville News Sentinel and deputy managing editor, is passionate about his job, is exceptionally good at it and thrives on the breaking story. Being the honoree at the Follies, an annual event that raises money for a journalism scholarship, is well-deserved. (On right is a cell phone shot of Tom before the dinner began at the Knoxville Convention Center.)
Colleague Michael Silence has a posting here. And here's an article from the local SPJ chapter's newsletter.