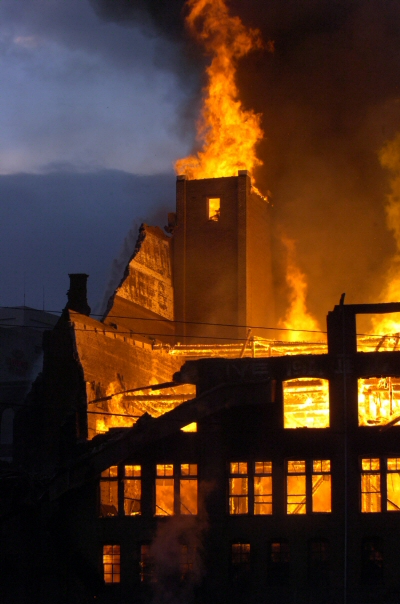 Michael Patrick / News Sentinel staff
The early bloggers, people like Jeff Jarvis and Glenn Reynolds, point to 9/11 as the seminal event that forever changed their blogs and blogging as a way of writing about and interpreting news.
I wonder if "Knoxville's Great Warehouse Fire of 2007" (I think I stole that line from somebody) is a seminal moment in the way local news is covered here in Knoxville? I can't remember a news event that has been covered in quite the same way. We've had live blogging from news events, but this, it was different.
If you're just catching up, two warehouses and another building in the downtown area caught fire just after 1 a.m. Wednesday and burned through most of the day, leaving four firefighters in the hospital and raining embers down on much of downtown.
People living in the nearby downtown condos on North Gay captured the late-night-into-day fire with digital still cameras and video cameras. The results are just a search away on Flickr and YouTube and personal Web sites. Bloggers here and yonder logged in with personal tales, links and tidbits.
The city's Web site posted a slide show. The sheriff's department shot aerial video.
All the traditional media used their Web sites for as-it-happens news. At the News Sentinel, where I hang out, we had quite a bit of video, audio, tons of photos, stories that seemed living they changed so much. You can see a lot of the multimedia and sidebars attached to this story.
Email news alerts flew out. Cell phone alerts buzzed in. Page views and visits ratcheted up.
The adrenaline high was palpable even in the print version, but definitely in the Web version.
Journalism professor Bob Stepno rounds up some of the varied coverage. He notes:
By afternoon, people were online writing about the fire from West Virginia to New York to the other side of the Atlantic.
Jump the Shark, a blog about Knoxville media mostly, put it this way:
Technology has reached the point that just about anyone, anywhere, can capture a news event as it's happening, snap a few photos or shoot home video, and have it on the local or national news within minutes.
I've believed that in the abstract as a concept, but now I've seen it in action in my town. And it's good stuff.
Tags: citizen journalism | Flickr | YouTube | fire | Knoxville | blogging