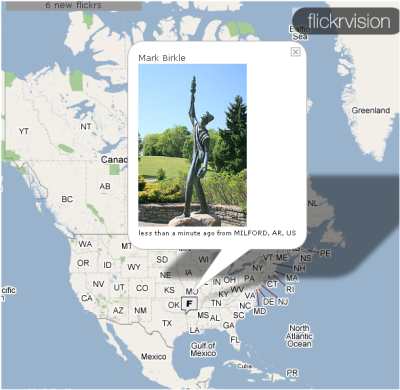 The just launched today flickrvision and the earlier twittervision are utterly and endlessly fascinating.
You have a real time (or less than a minute ago) sense of the ever-changing teeming ecosystem of the Internet to wax National Geographic. Flipping from one to the other you see messages and photos popping up all around the globe. People expressing themselves in myriad ways through photos posted to flickr or tweets on Twitter.
Both sites are from Dave Troy.
He posted this on Twitter early this evening:
First day of https://flickrvision.com an unmitigated success! Amazing traffic volume, and just committed several more enhancements! Thanks.
There's some more info on the two sites from Brady Forest on O'Reilly Radar.
Try 'em, but warning: they're highly addictive.
Tags: twitter | flickr | twittervision | flickrvision | Dave Troy