For my muggy Sunday mid-morning jog, I listened to the sweet blue-eyed soul sounds of Marc Broussard's S.O.S.: Save Our Soul
, which was released the last week of June. The video above is of the first single from the album. Man, he can do justice to a good soul tune.
More Marc Broussard videos on YouTube.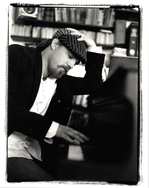 The album is a collection of soul classics, plus one original number. The classics covers include a fabulous version of Al Green's "Love and Happiness" (hint, play the video), Stevie Wonder's "You Met Your Match," Otis Redding's "I've Been Loving You Too Long," a crank-it-up Staple Singers' "Respect Yourself," Blood Sweat & Tears and Donnie Hathaway's "I Love You More Than You'll Ever Know," Marvin Gaye & Tammi Terrell's "If I Can Build My Whole World Around You," Bobby Womack's "Harry Hippie," Rance Allen's "Let the Music Get Down in Your Soul," and the Pointer Sisters' "Yes We Can, Can."
The lone original number is "Come in From the Cold,"
I saw Marc Broussard when he opened for Bonnie Raitt at the Tennessee Theatre in December 2005. He was pretty good then, but they seem to giving him a different look these days sans his hat. Whatever the image, he sounds good.
As strange as it may sound for someone who's also a big fan of bluegrass, I love classic souls artists like Al Green, Marvin Gaye, the Staples, the Pointers, Stevie Wonder, the Temptations and a slew of others. Not anybody better to get sweaty too.
Track listing:
You Met Your Match
If I Could Build My Whole World Around You
Harry Hippie
Let The Music Get Down In Your Soul
I Love You More Than You'll Ever Know
Inner City Blues (Makes Me Wanna Holler)
Love And Happiness
I've Been Loving You Too Long
Respect Yourself
Yes We Can, Can
Come In From The Cold
A fine listen for for jog.
Here's my week:
 
 
Sessions
Calories burned
Time exercising
Miles jogged/eliptical

Actual
4
2378
3:07
12.16
Target
4
2000
3:15
No advice
Month-to-date miles: 48.64. It's kind of tough in this heat.