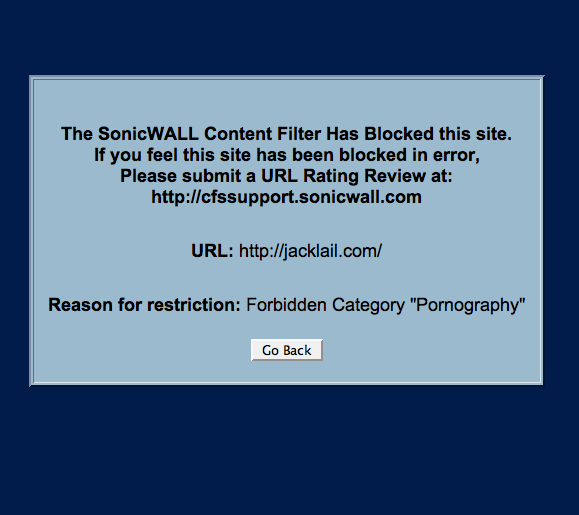 I've hit a SonicWALL.
Patrick Beeson emailed me he couldn't access my Web site from Panera Bread's free WiFi service.
He included the above screen shot that he got when he tried to go to my URL.
Pornography?
Panera uses the SonicWALL Content Filtering Service to keep things clean in the restaurant so to speak.
Which would be fine, but …
I went to support link in the message and plugged in my URL and sure 'nouf, I'm a pornographer.
You can check to see if SonicWALL has your site on its blacklist.
I don't know who reviewed my site and came up with porn. I suppose that's an editorial comment on my blogging? 
I did ask, nicely, that the address be re-reviewed:
Thank you for submitting your re-rating request.

The SonicWALL CFS team will review this URL, and if necessary add or modify the rating in the CFS database. It usually takes 3-5 business days to review and take action on these requests. You will receive an E-mail notification upon completion of your request.
Well, thank you.
Damn mind readers.