Boomsday to those that don't live here is one of the biggest events in Knoxville. People love it. It's always Labor Day weekend. This year it was Sunday night.
Yeah, it was covered by the mainstream media, but how did people (I refuse to use the silly phrase citizen journalists) just creating and sharing their experiences cover it?
I found more than a few examples — and it's good coverage.
Here's a YouTube video:
;
(Posted by guitaralot920)
There are a globs of Boomsday videos on YouTube.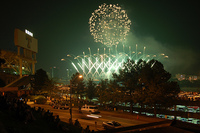 And they shot photos like this one on the right from bparton92. And, again, I found LOTS more Boomsday photos at flckr.
Of course, there were bloggers.
Among them were:
Eimers Family News and Photos: Boomsday in Knoxville!
The Mule: Boomsday – The Biggest Fireworks Display in the USA!
Life and Times of a Teacher Mom: If they shoot off fireworks in Tennessee, what color whould they be????
And since Google seems to index Twitter, I even found a few people that had covered it live on Twitter.com in what some call microblogging.
rlb865
Home from Boomsday. Worn out and going to bed since I have to work tomorrow. It was lots of fun though! 11:38 PM September 02, 2007 from web

Still at Boomsday. No fireworks yet…. 08:15 PM September 02, 2007 from txt

Sitting at Boomsday with Michael and his family. 06:13 PM September 02, 2007 from txt
bobmissy07
and we have a table at calhouns afterward… 20 bucks to friggin park ISYN! 3 days ago from web

With Others Previous DAMN THIS IS A HUGE CROWD 07:32 PM September 02, 2007 from web

SITTING ON THE MOST VALUABLE REAL ESTATE IN KTOWN WAITING ON BOOMSDAY TO START. 07:32 PM September 02, 2007 from web
bobinmotion
About to head to friend's house, then to Boomsday from the top o' Baptist Hospital! 05:07 PM September 02, 2007 from web
It doesn't surprise me that people take photos or videos or even blog about an event like Boomsday. It does amaze me how many do that and then go to the trouble of posting it online. Separately, many of these videos, images and blog entries are wonderful accounts; taken together they're a rich, deep chronicling — or journalism — of the event.
It would be intriguing to wrap these all together to tell the story of the event. And you could today, but you couldn't hours after the fireworks — or even the day after; either the media and text hadn't been posted or it hadn't been indexed by YouTube or Flickr or ultimately Google. I'm sure a combination of both were at work.
If you could pull together this myriad of coverage, you would have some powerful community journalism. Now that would be fireworks!