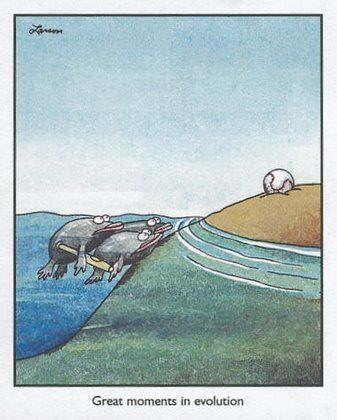 The newspaper as you know it tis but a "historical anomaly."
— Jane Singer, professor of digital journalism at the University of Central Lancashire, speaking at a future of newspapers conference.
With the era of the mass-media, ad-driven newspaper nearing an end, she said the evolution of newspapers is one of "punctuated equilibrium," a theory that evolution happens in bursts, separated by long periods of status quo.
Quoted in a Paul Bradshaw article in the Press Gazette, Singer said:
"There's a temptation to see that as a threat – but we should look at it as liberating,
"We don't need journalists to cover minutiae, to spend so much time on things they don't need to be doing, like sports scores, and press releases, and acting as a 'middle man' between a source and their audience.
"We need journalists to put information into context, to do it without fear or favour."
(via Martin Stabe)
(cartoon by Gary Larsen)