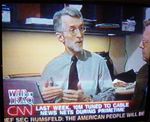 I was already thinking about newspaper blogs today from Edward B. Driscoll Jr.'s slap that newspaper blogs were just dull, but now along comes that fuzzy iconoclast Jeff Jarvis who says the problem with newspaper blogs is that they're on newspapers:
So I think that if newspapers are going to blog, they should have lots of blogs at lots of addresses, lots of people creating lots of brands. And this also means that they must be written in the human voice of the person, not the cold voice of the institution. And, while we're at it, this means that they must join in and link to other conversations; that is they only way they will spread and grow, not because they live six clicks deep into a giant newspaper site. We are seeing the links and the voice. But the architecture remains a problem.
That's good advice!
Jarvis actually thinks newspaper bloggers are getting better at having voices, but are thwarted by newspaper Web site navigation. He suggests it's time for newspaper blogs to move to their own branded domains.
In the comments, Dwight Silverman of the Houston Chronicle provides a reality check:
Online newspapers have a dichotomy of readers. Some of them WANT the stratified navigation of a traditional newspaper applied to the online product. Any newspaper site that has done a redesign has heard from them, bigtime. They are more traditional and expect a newspaper to be, well, a newspaper, even online. And they are legion.

That group is very different from the digirati, who live by RSS feeds, aggregators, link-tracking, etc.
Silverman couldn't be more right when he says organizing information on a newspaper Web site is a daunting task at best.
Writing on his BlackRimGlasses blog, Ethan Kaplan dices it this way: "The problem with newspapers isn't necessarily about how bad their blogs are, its that they don't, as an online presence have the authenticity of a blog."
As Driscoll noted many attempts at newspaper blogging are flawed by confusing the form with the content. I've seen that the newspapers bloggers who do understand it are able to build brands and audiences that are generating significant new traffic. Those that don't, aren't. I think knoxnews and other newspaper Web sites are trying to bring authentic blogging to our audiences and engage in conversation and link out and develop relationships. Whether we are doing it successfully is, I guess, for the audience to decide.
The ghettoization of blogs on newspaper sites is a real issue. Some newspaper Web site designs have put blogs front and center while others aren't that flexible. Certainly the promise of the Blog network we are doing with Dave Mastio is to integrate the local blogging community's flow into the newspaper's river of news. I'm hopeful.
Jarvis' idea of a bundle of brands or a loose network is brands for newspaper Web sites is fascinating and smart. Is special content best buried in a labyrinth newspaper URL or best branded separately? I don't you need to think that one through, but there are reasons why we do this. We want all our content under the newspaper-dot-com so the audience is aggregated together when it's counted by comScore or others. The mass of media still weighs heavily on traditional mass media.
(Jarvis image from Corante.com)