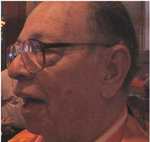 Think the social nature of the Internet is just for 18-to-34 years olds — or younger? Think community is your neighborhood? Think everything online happens in the highly wired, tech meccas?
That would be wrong.
You might ask Clyde Clark about that.
Clyde's not from Silicon Valley. Besides, they call valleys "hollers" in the hard scrabble hills of Lee County in Southwestern Virginia where he grew up.
At 86, he's a couple of crisp October days past the target demographic of most social networking Web service startups. I'm fairly certain he's not on Facebook or has a MySpace page. But one community for him is the Tennessee sports email list he been on for years and in which, he has developed many friendships he would not have had, and which he says he cherishes.
His list friends organized a surprise lunch in his honor on Saturday prior to a little evening event with South Carolina at Neyland Stadium. About 20 people from Texas, Indiana, Kentucky, Virginia, Tennessee and Florida showed up at popular Knoxville restaurant and watering hole. As the administrator the list, but not an active community member, I came because Clyde is that kind of guy and I had never met face-to-face Clyde or most of these long-time members.
If your email account is, as Steve Rubel says, your "social network hub," then Clyde, who lives in Roanoke, Va., is riding the cutting Web 2.0 wave of social networking. The sports list I watch over is a heavy volume list; often more than 100 messages a day generated by a mere 300 users. The list population sometimes grows to double that number, but only the dedicated can handle that kind of daily volume of banter, opinions and gossip on anything…
Many have been on it for a decade or more.
Of course, Clyde and several other of those gathered, ribbed me a bit about the time I banished Clyde from posting for some flagrant off-topic threads. That sparked a groundswell movement within the list to "Free Clyde Clark" and wisdom prevailed over stubbornness. Community at work!
It's not about age or geography or slickness; it's about growing connections.