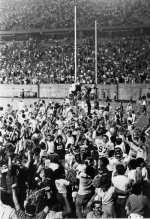 Now, East Carolina football fans (where I went to college) have had a rep for being a tad bit on the rowdy side. There have been those four little incidents (see photo caption), among others, at N.C. State.
But louder than Vol fans in Neyland?
ECU athletic director Terry Holland includes this quote in an email to ECU supporters:
"To be honest, I'm not so sure that 43,000 wasn't louder than that 107,000," Southern Miss defensive coordinator Jay Hopson said. "I was like, 'Goolllyy!' That was a loud crowd that rocked for 60 minutes."
Southern Mississippi took on the Vols the week before. Times are tough in Volville when the opposing team says what often is the largest crowd in college football on any given fall Saturday is just not as loud as some places they visit.