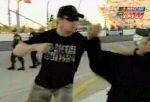 Question: Does a team fall apart from the stress of things not going well or do things begin to not go well when the team falls to work together?
For those who aren't NASCAR followers, this is a photo of Roush-Fenway driver Carl Edwards getting angry enough to almost punch teammate Matt Kenseth following Sunday's race in Martinsville, Va.
See the YouTube video.
Edwards yesterday said a feud had been brewing. Both drivers have been fading in the Nextel Cup Chase. Edwards is fifth and Kenseth is 12th.