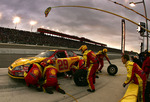 The headline on Yoni Greenbaum's post about innovation at newspaper Web sites got me thinking about NASCAR.
NASCAR and innovation at newspaper Web sites?
Bizarre, admittedly.
Well, OK, his headline is "Don't let your website get lapped." That happens in NASCAR on a regular basis to the also rans and sometimes to the contenders when things don't go well.
But my NASCAR thought is on the how the cars are continually adjusted during the race to keep pace with changing track conditions and to just make the car to run better. A pound of tire pressure, a piece of rubber in the spring, a small change in something called a track bar. They can't bring in a new car; they have to make the one they have competitive to finish high.
And for newspaper Web sites, the track conditions are constantly changing.
Greenbaum makes the argument to do the equivalent of pitstop tinkering with newspaper Web sites, Tweak it, fix it, replace it to stay in the race. There is no next year.
He has proposes you follow these rules:
If it's broken, fix it.
If it's missing, replace it.
And if it's needed, add it.
Not bad.
Another thing NASCAR and newspapers Web sites need to have in common: Speed.
And with that trackside wisdom, I think I'll have another Budweiser, Bubba.
(NASCAR photo of Kevin Harvick's No. 29 pit crew at work)