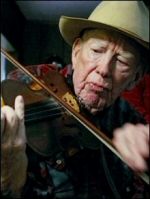 Two of my News Sentinel co-workers are doing an interesting and historically significant project called "Songs of Appalachia." It is being done by online producer Lauren Spuhler and writer Morgan Simmons.
They're capturing the sounds and songs of the region in video and text.
Old-time, bluegrass, folk, just call it roots music in the mountains. It's the unique musical styles and songs that have survived on the back porches, at the Saturday night get-togethers and in the postage stamp communities of the Appalachian Mountains of East Tennessee and North Carolina.
The first installment is on fiddler Charlie Acuff. Each month will bring a new musician. Bookmark the page! Amazing stuff.