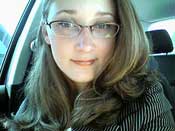 Nashville ex-patriate and pioneering Tennessee blogger Brittney Gilbert's new work gig blog "Eye on Blogs" officially launched Thursday at KPIX in San Francisco. She got some pub in the trade press earlier in the week.
"If the concept can drive traffic in Nashville, which has a much smaller blogger community, it can certainly work here." The hope is to bring users to cbs5.com who might not ordinarily visit a station Web site.
— Internet Operation Manager Jim Parker.
Her departure from WKRN was highly publicized.
Best of luck in the new project!