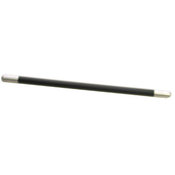 A couple really wonderful posts about suggestions for possibly reinvigorating and reinventing print newsrooms for the Digital Age.
Editor John Robinson modifies Howard Owens' 10 things non-wired journalists need to do contest for the "more-or-less wired journalists" in his newsroom at the Greensboro (NC) News & Record and lists 10 things the newspaper will do in 2008.
Mindy McAdams draws inspiration from Steve Outing's column on changing newsroom culture with a great time to get crazy post. Outing blogged a follow up tying in his column and McAdams' post
Updated with more thoughts:
Alfred Hermida adds that "It is time to stop thinking about a journalism defined by the means of distribution."
If the biggest story of all time broke, Pat Thornton asks, would you cover it like a newspaper? He has suggestions.
"Simple put, at some newspapers, it's time for a revolution," writes Yoni Greenbaum, a manifesto for the old guard of editors to step aside.
Would these be the magic wands for my "reservoir of skepticism" quote in Outing's column? If not, they're darn good prototypes for a magic wand.