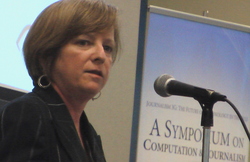 On Friday afternoon at "A Symposium on Computation & Journalism" (a sort of geeks and journos mashup at Ga. Tech), Shawn MacIntosh, director of culture and change at the Atlanta Journal-Constitution, gave an update on the upheaval at the AJC as it tries to remake itself for the digital age.
It was just a year ago that a major reorg of the AJC was announced. MacIntosh has been at the center of the whirlwind of change that re-molded the newsroom into four areas: News & Information; Enterprise, Printed Product; and Digital Department.
One of the first changes was the news meeting, which used to focus on Page One for the next day, which was "kind of crazy" for paper that already had a major Web operation, she said. The meeting was refocused on Web first and within two weeks, ajc.com was seeing Web site traffic gains.
To achieve just that obvious change required a task force and eight months of meetings, complaining and planning. That illustrates the culture change newspapers are up against, she said. "The pressmen in the halls are not used to mixing it up with the search engine optimization expert."
MacIntosh said the biggest challenge has been serving two mediums. Some newsrooms say they are content agnostic, but not Atlanta. Print and digital are fundamentally different and newspapers that try to replicate Page One online or replicate the print "newspaper experience" online are making a mistake, she said. "The same content does not delight and thrill the same audiences," she said. "We found honestly we couldn't do both well."
Roughly a third of AJC.com's users, MacIntosh said, haven't looked at a printed edition in some time.
Because of the differences and different audiences, the printed paper and the Digital Department are separate.
The newspaper's reorganization strategy appears to be succeeding: print circulation has stabilized and Web traffic is rocketing.
More blogging about the symposium, which continues Saturday..