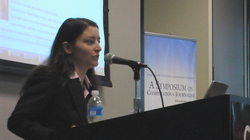 It's one of my theories that mainstream media needs to operate a lot more like
startups: nimble, flexible, quick, resourceful and hungry. We need to particularly be doing this when we create our own internal "startups."
So it was nice to hear Elizabeth Spiers share some of the secret sauce ingredients to making a successful Indy online publication. She was speaking at "Joururnalism 3G: A Symposium on Computation & Journalism" at Georgia Tech on Saturday.
Taking advice from a gossip columnist – again? No, I was listening to the advice of a savvy media player who happened to gain a good bit of notoriety as the first editor of gossip blog Gawker. (She says it didn't start out a celebrity gossip rag; it was focused on Manhattan. It certainly launched owner Nick Denton's blogging empire.)
Spiers also has written for a number of magazines and newspapers. She was editor in chief of mediabistro.com. She formed blog network Dead Horse Media (and abruptly left in April in a disagreement with her partners).
With her Gawker days behind her and a novel coming out in November, Spiers is a familiar name in New York media circles, That's not bad for a young woman from Wetumpka, Ala. (a small town of about 5,700) with a degree from Duke who decided to make in the toughest media market in America. Like I said, I was listening closely…
"I've only worked in journalism about five years, which is as far as I can tell, the length of a New York Times internship," Spiers said. Instead of learning how to run the copy machine, she learned blogging, how to start a business and how to get good writing gigs, she said. I call that pretty good cred.
For Indy online publications with limited budgets and resources, Spiers' ingredients for a secret sauce include:
* Keeping it tightly focused on a topic or very limited niche. You don't have the resources to be broad or mass.
* Post 12 to 20 new pieces of content a day. "It's a lot more rigorous than it sounds," she said.
* Experienced journalists might not be the best hires. They can blog, but can quickly burn on posting 12 to 20 times a day, she said. And the heavy posting often gives experienced journalists a disincentive to do original reporting. A young person breaking into journalism may find it rewarding. They get a lot of responsibility and user feedback.
* Ask readers to help. She said ask nicely and ask for granular info. She gave an example from earlier this year in Gawker. Nick Denton asked in blog post:
Matthew Winkler Working on a story on Bloomberg's editor-in-chief. Is he still as much of a tyrant? Examples please! Email [email protected].
The blog got an mp3 file, posted soon after the original query. Denton
describes It "an audio clip of one of the most amazing newsroom
tantrums I've ever heard. That man yelling, with growing fury, is
Matthew Winkler, head of Bloomberg's news organization."
The query post ended up setting off a string of blog posts about Winkler.
* Your competition is unlikely to be your print publication. The majority of reading will happen when people at work a few features to surf to your site,
She recalled an email she got while working on Dead Horse Media blog dealbreaker.com, whose average user is about 29, works on Wall Street and makes over $200K a year.The emailer wrote she had to look at a Web site. It turned out to be "Spider-Man Review Crayons."
"Your web competition is not necessarily what you think it is," Spiers said. Your competition is what other sites your readers choose to go with a spare few minutes at work.
* Build credibility. Correct, update, link to source material.
* Be transparent, probably more important than it is for traditional media.
* Don't be afraid to run longer pieces, but she said, not all investigative journalism has to be long pieces.