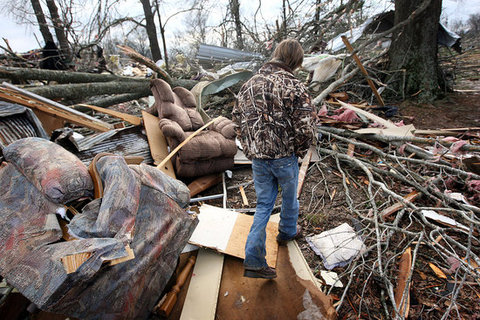 The tornadoes that ravaged West and Middle Tennessee left behind in the debris great gems of people telling their own stories in the tragedy.
Helen Waters at BusinessWeek noticed:
Watching the news and CNN had a piece on the tornado that went through Tennessee last night. The anchorwoman then introduced some pictures from "Facebook" (entertainingly, she said it in exactly the same way my grandmother used to say the word "Internet" — like she was experimenting with a whole new mysterious language.) She recounted how students from Union University in Jackson had been uploading pictures of their experience of being in the storm to their Facebook group — and then showed a few pictures that had been uploaded.
Citizensugar caught it, too:
This morning, while covering the devastation caused by the tornadoes that ripped through the mid-south, CNN relied on reporting from some very personal sources: Facebook and blogs. Using pictures of upturned cars posted on local Facebook pages and reading a posting from the blog Sassy Southerner to report the story, CNN pulled together a very eyewitness account, using no formal reportage.

Did a Sassy Southerner tell the story better than a Wolf Blitzer?
Maybe, but it was smart of CNN to pull Sassy Southerner into its coverage. Here's a link to Sassy Southerner.
Rex Hammock found bloggers and Twitter users layered in details about the news story. He pointed to a list of blog postings put together by Christian Grantham at NashvilleisTalking.
Great ways of telling the story. Can you point me to other examples?
Updated: flickr search for "tennessee tornado."
Updated: Paul Chenoweth with several examples and a great observation:.
The Union (University) disaster highlighted a role for bloggers and responsible social network users to become part of the reporting and supporting of those who are in the midst of crisis situations. The days of a single, tightly controlled message (from traditional media sources) in times of crisis…are gone.
(Some links from J.D. Lasica, image from Getty Images)