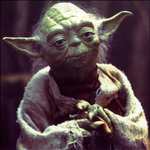 What? Angry Journalist sees future in much-maligned industry for J-School grads?
Call it optimism tempered by realism, Yoda teaches careers in journalism.
Bryan Murley pointed me to a great piece on his Innovation in College Media blog by Kiyoshi Martinez, founder of Angry Journalist.
The piece is aimed at journalists trying to enter the work force and it's good advice, damned good advice.
As I was reading it, however, I was thinking this is fantastic advice for students contemplating journalism as a major, a sort of this is what you are getting into and can look forward if this is the path you choose my little one.
And then it occurred it me it, this is great reading for people already working in journalism, this is what you haven't thought about recently in terms of personal marketing and how journalism is changing.
Some tidbits:
"You ought to be able to explain why you're taking the job you're taking, why you're making the investment you're making, or whatever it may be. And if it can't stand applying pencil to paper, you'd better think it through some more. And if you can't write an intelligent answer to those questions, don't do it."

You might think you know journalism. It's writing articles for a newspaper. Or shooting photographs. Or designing pages. Or maybe even that new media stuff people keep mentioning. Wrong. Those are skills.

With Google and Wikipedia you no longer have any excuse to be stupid. Ever. Have a question or curious about something? Type it into Google.

You might think you're too young in your career to build a brand. Wrong. You need to start developing it now. Literally, your employer is purchasing your skills over someone else.

Stop blaming others. Maybe you wanted to start blogging for your college paper, but they're too incompetent, lazy or slow to let that happen. Same goes for video. Or soundslides. So, you're sitting around and doing nothing now. Screw them. Do it yourself.

Get a good idea about the publication's strategy and vision — and not the bullshit one that they'll spin you. What have they actually done?

If all you love is newspaper journalism, then you take the risk of it not loving you back.
I think there's soemthing in it for journalists of any season. There's more.