Now we're talking Creative Commons.
Free Beer points out Free Beer version 3.3 is available in Knoxville.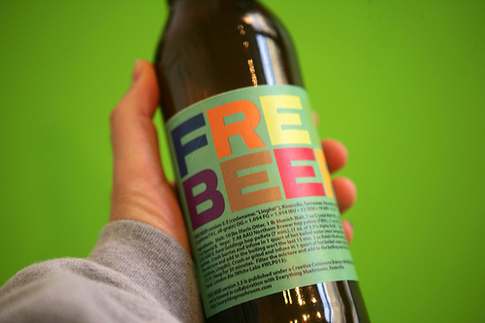 Copyshop Knoxville and Everything Mushrooms get the credit for bottled "FREE BEER version 3.3.".
Photo from The Art Gallery of Knoxville
(vis Underoak — Who knew Danes licensed Free Beer under Creative Commons, and someone's bottling it in Knoxville? Nice design too.)
Update: A back story. Underoak, a Twitter user at The Charlotte Observer noticed the Free Beer in Knoxville link on a French tech site. She says: "French blog on tech. gets Free Beer hat tip. Keeps my French and global perspective halfway fresh. https://snurl.com/22nbi"
.
Who knew. The French and beer? Tip a cold one to the Internets!