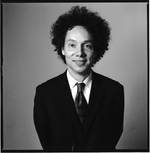 In what could only be viewed as a perverse and often baffling development, author and New Yorker magazine writer Malcolm Gladwell said last week a story he told in an early February segment of public radio's "This American Life" is, well, a complete tall tale.
In the story, recorded at a New York club called the Moth, Gladwell recounts his early days as a cub reporter at that august bastion of journalism, Ben Bradlee's The Washington Post.
To hear the "The American Life" segment go here and click on full episode and move the player sliderbar to about the 45:27 minute area of the audio to hear the start of the Gladwell piece.
The original piece had a disclaimer, but now, more than a month later, Gladwell has clarified the story's veracity on his Web site:
There is a disclaimer at the end of the This American Life broadcast, to the effect that the Moth is a place where "people come to tell both true stories and occasional tall tales." As I think should be obvious if you listen to it, my story definitely belongs to the "tall tale" category. I hope you enjoy it. But please do so with a rather large grain of salt.
But you know, the story has that ring of …