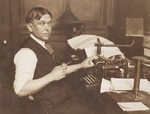 A trio of posts over the weekend had me musing about the new roles journalists find themselves in, roles far beyond what journalist and essayist H.L. Mencken (pictured at right) probably envisioned. Beyond reporting and writing, they are becoming community discussion leaders, the deejays of news.
Robert Niles and Howard Owens, among others, have suggested that this is a role that must be played by newspapers and other media on the Web.
Howard Owens was quoted in January as wishing: "Reporters and editors would take seriously their roles as community conversation leaders, concentrating on getting it right on the web first — Web-first publishing, blogs, video, participation — and using the print edition as a greatest hits, promote the web site vehicle. Old packaged-goods-thinking about the newsPAPER would disappear overnight."
Robert Niles said a few months back "The core skills one needs to build an active, informative and respectful online content community are precisely the same skills reporters and editors have employed for generations to become good journalists."
Which brings me around to this weekend's posts.
WBIR senior online producer Katie Allison Granju says her role on KnoxvilleTalks.com is "akin to one of those salon hostesses of yore who worked to facilitate and encourage great conversation among guests."
Trace Sharp says adds another angle. The conversation guides must have a voice themselves, much like the radio deejays when you knew the deejay's name.
She wrote:
Blogging and the tubes are somewhat like personality-driven radio for me. I listened to DJs I liked who engaged me. That's what I wanted to do. …

I think about blogging the same way.

And I like human aggregators. I just see blogging a bit like radio. I listen/read you because I dig what you, the person, says/writes.
And then there was Cathy McCaughan, who explained her use of a newspaper Web site: "I visit it to read about local news and read the comments that people make on each article. I read the editorials and the letters people have written to the newspaper. I don't read the newspaper for news. I read it for reactions."
The "for reactions" part struck me a particularly poignant in that she is looking for the conversation around the news.
Is your request line open to live calls? Is your playlist sharp and engaging? Do your news deejays have personality?
I like to think Mencken would have leapt at this opportunity. He certainly had the personality and voice.