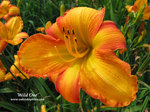 If you're into daylilies or just beautiful flowers, here's something FREE for spring.
Noticed in a Saturday email newsletter (that I just got around to reading this morning) that Ken Oaks at Oakes Daylilies in Corryton has a free daylily screensaver.
Here's what he said in the newsletter.
I noticed just the other day here in our office that my sister was using a folder of daylily pictures as the screensaver on her computer. And it struck me to see just how impressive the pictures were, blown up large enough to fit the screen. I don't think I had ever looked at those pictures that large, but at that size they looked spectacular! I could see and appreciate all the gorgeous detail — When it comes to pictures of daylilies, it seems that bigger is better.

From that observation, the thought occurred that perhaps you might enjoy having some extra-large daylily pictures to use as a screensaver on your computer. So I've pulled together some of my favorite pictures (40 of them), and if you would like them, they are available for you to download (4.2 MB). Some of the photos are pictured here, but the photos in the download are even larger! Let me know if you enjoy these (or if you have any suggestions for improving them, size-wise or otherwise), and I'll try to pull some more together to make available later. I have enjoyed using the program Google Photos Screensaver, which is available free to download from Google. You might want to give it a try.
And the venerable East Tennessee family business does a darn fine email newsletter.
(Photo from Oakes Daylilies)