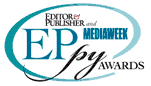 Knoxnews/GoVolsXtra today were named finalists in three categories in the 2008 EPpy™ Awards for the Best Media-Affiliated Internet Services.
The winners will be announced at the Interactive Media Conference and Trade Show on Thursday, May 15, 2008 at the Rio in Las Vegas.
The contest, now in its 13th year, is put on by Editor & Publisher and Mediaweek. It's a big deal to win one of these. Heck, it's a big deal to a finalist.
Here are the categories knoxnews/GoVolsXtra are finalists in:
Best Overall Design of a Web Site with fewer than 1 million unique monthly visitors
* The Enquirer & Cincinnati.Com
* KnoxNews.com
* Las Vegas Sun
* Metromix.com
* Observer.com

Best Overall Newspaper-Affiliated Web Site with fewer than 1 million unique monthly visitors
* APP.com, Asbury Park Press
* GazetteXtra.com
* Knoxnews.com
* Las Vegas Sun
* NWHerald.com

Best Sports Web Site with fewer than 1 million unique monthly visitors
* arkansassports360.com
* CommunitySportsDesk,kenoshanews.com
* GoVolsXtra
* varsity845.com, Hudson Valley Media Group
The credit for being named finalists goes to a very strong digital media team at the newspaper.
In the newsroom there is an awesome team of online producers led by Online Editor Jigsha Desai and composed of Lauren Spuhler, Erin Chapin, Talid Magdy and Chloe White. Deputy Managing Editor Tom Chester coordinates breaking news and other initiatives between the print and onlien groups.
On the advertising side, Ed Tisdale leads a group of
designer/programmers that include Clint Barnes, Tom Wolber and Chuck
Kirkpatrick.
Much of design of knoxnews is the work of E.W. Scripps' design wizard Herb Himes. The Django/Ellington platform used for knoxnews and GoVolsXtra is supported by the corporate interactive group based in Knoxville.
Here is the complete list of finalists. Other Scripps newspapers among the finalists are naplesnews.com and commercialappeal.com.