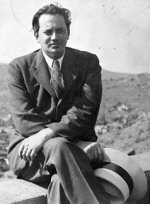 I had never heard the Thomas Wolfe quote that UNC Chancellor James Moeser used during the commencement ceremonies on Sunday and decided to email Lisa Katz, a university media contact, and the chancellor for a copy of his remarks. Both sent his remarks quickly! And many thanks.
The Yackty Yack is the UNC year book. Bonus: Slide show from The News & Observer. (Photo at right is of Thomas Wolfe and is from UNC University Libraries.)
Prepared remarks of Chancellor Moeser:
Graduates, we are coming to the end of this ceremony and we will soon go our separate ways.

I share your sense of nostalgia and your reluctance to let go of this place that we have come to love so much. I will always identify with the class of 2008, for I am graduating along with you.

Let me leave you with some words from Thomas Wolfe, class of 1920. Wolfe enjoyed enormous celebrity before his death in 1938. Two years later, his great novel appeared, bearing that memorable title: You Can't Go Home Again.

Thomas Wolfe was right about many things, but he was wrong about that. Just before his own graduation from Carolina, Wolfe wrote the following lines for the 1920 Yackety Yack — thinking about himself and his classmates. I think he was thinking about us too.

" … But sometimes when the springtime comes,
And the sifting moonlight falls —
They'll think again of this night here
And of these old brown walls,
Of while old well, and of old South
With bell's deep booming tone,
They'll think again of Chapel Hill and —
Thinking — come back home."

Graduates, this is my charge to you (and to myself as well):

Let us heed the magic.

Take one more deep drink from the Old Well

Listen to the call.

Answer the bell.

And then, as often as we can, let us come back home again.

God bless you all, Tar Heel graduates!