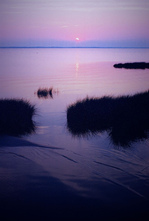 One of the best Best Scenic Drives in the U.S. is close by:
Blue Ridge Parkway

Stretching some 469 miles along the Southern Appalachian Mountains and linking two eastern national parks — Virginia's Shenandoah National Park in Virginia and North Carolina's Great Smoky Mountains — the Blue Ridge Parkway has often been referred to as "America's Favorite Drive." It's certainly the country's first rural parkway — parts of it date back to 1930s (when construction began as a make-work project during the Depression) — and the longest, with breathtaking scenery and dozens of recreational opportunities to distract you when you need to stretch your legs.

Though some may argue that autumn is the best season to drive this stretch, as the brilliant fall foliage is in full effect, May is also a superb time to head this way, to witness the profusion of wildflowers in bloom along the elevated mountainsides. Also included in this scenic route is the impressive Skyline Drive, a 105-mile swath of road that cuts through Shenandoah National Park. Of course, no nature drive of this sort would be quite complete without wildlife sightings: Keep an eye out for resident whitetail deer and black bears.
Not on the list, but which should be up for consideration is NC 12 which goes from Corolla to Cedar Island on the Outer Banks of North Carolina. See photos on flickr tagged Outer Banks.
Photo here is of the sound side on Outer Banks at Duck, NC. By Sleestak66