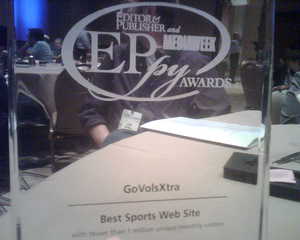 Our GoVolsXtra site won an EPpy today!
The award was presented at the Editor and Publisher Interactive Media Conference and Tradeshow in Las Vegas.
Best Sports Web Site with fewer than 1 million unique monthly visitors
* arkansassports360.com
* CommunitySportsDesk, kenoshanews.com
* GoVolsXtra
* varsity845.com, Hudson Valley Media Group
Cell phone photo from Jigsha Desai.