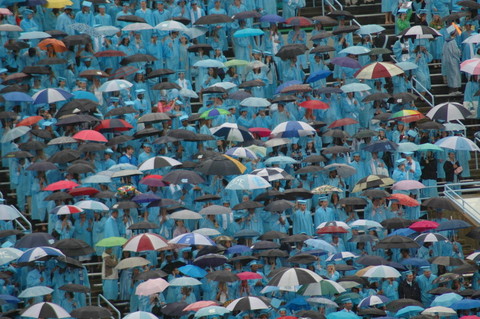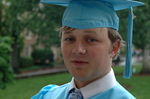 We were in Chapel Hill over the weekend for the graduation of our son, Eric, who finished in four years and starts a new job next month in the Washington area. It was a good day for the family even if wet!
The usual two hour main commencement ceremonies at the University of North Carolina were blessedly cut short to about 20 minutes on a cool Sunday due to a steady rain in Chapel Hill.
We were in a dry spot under the upper deck on the visitor's side of Kenan Stadium. Not all of the 15,000 there were so lucky.
Many of the students were wearing large "Eve" button on their Carolina blue gowns. The button was for Eve Carson, the 22-year-old senior class president who was found dead March 5 near the campus. She had been shot several times, including once in her right temple. Two men have been arrested in connection with her murder.
Because of the rain, UNC Chancellor James Moeser canceled most of the scheduled program including the commencement speaker (whose speech was posted online), Moeser, who received a degree himself, quoted Thomas Wolfe. Senior class president Ashley Shores did speak about Eve Carson. There were the sounds of James Taylor's "Carolina in My Mind."
We took photos around campus, did some shopping and had great lunch with the family of his girlfriend, Nikki Pisha, at the Carolina Brewery, where both worked. More photos.