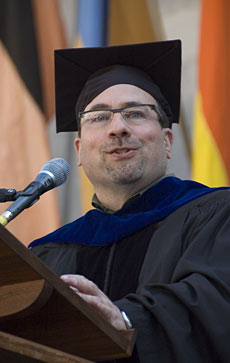 Craig Newmark is one of those people gutsy enough to "wing it" as a major college commencement speaker.
From the coverage I've read of his "change the world" speech to UC Berkeley graduates on Tuesday, he passed on at least one big idea, which likely will be ignored by most of the graduates, and several rules to live by that, while not novel, are worthy goals for people of any stage of life.
The big idea:
"It's the boring stuff, the stuff we take for granted, that's actually the important stuff."
He's been quoted as saying he's "all about boring" and I think I get what he means, but I'd love to see him blog on "in praise of boring."
The rules to live by:
"Live and let live."

"Treat people like you want to be treated."

"Give the other person a break now and then."

"Include everybody."

"Guys you are not as funny as you think you are."

"Articulate what your company or non profit is about in 45 seconds."

"Focus on the things that can be done."
Homilies maybe, but not bad.
See his thoughts (he posted some photos, too) and more coverage here and here. Of course, a few didn't get it.
Photo from UC Berkeley News Center.