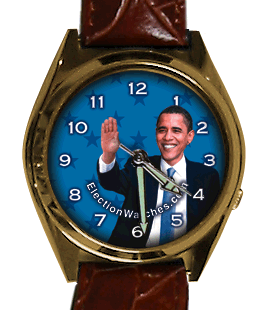 One of my friends, Robin Raskin, and Steven Edelson are winding up again electionwatches.com, a Web e-commerce site for presidential election years with a line of "waving" candidate watches.
Yeah, that's right, "waving" watches.
"If the Interent were a country, Obama would win.Visit www.electionwatches.com and check out my every four year pastime," Raskin writes.
Of course, there's still "time" for McCain. They do a "poll" based on watch sales. Vote buying at its best and completely legal.
From the PR release:
Waving Good-bye or Hello? The watches have a clever "third hand" that allows your fav candidate to wave back and forth, like a presidential metronome. In contrast to cheesy buttons and bumper stickers, these watches make a discreet, sophisticated political statement. Plus, by choosing a political timepiece to adorn your wrist, there's the added utility of always being on time: A conversation piece and a timepiece for the price of one.
I would add it's likely these watches are the only time you will see the candidates on time.