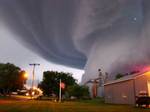 Gizmodo says this tornado photo from Orchard, Iowa — which made it onto a New York Times blog — is why you should carry a digital camera at all times.
But Kurt Greenbaum has the story of how newspapers and news sites handled the photo and that is nearly as fascinating as the photo is stunning.
Gizmodo's advice is cogent. And the editors who took the time to check out and verify the photo are what I call journalists.
Lori Mehmem photo