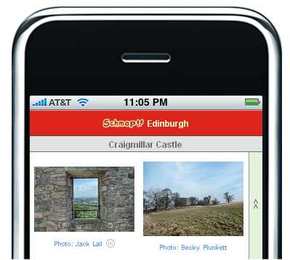 One of my photos (on left in image at right) of Craigmiller Castle got included in the "newly released fifth
edition of our Schmap Edinburgh Guide." The screen shot at right shows how it looks in an iPhone/iTouch and here is how it looks in its regular web version.
I suspect the creative commons license I use was appealing, but Schmap did ask to use it and I'm happy if someone likes it. It was taken during our vacation last summer.