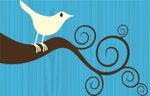 Some newspapers have been experimenting with Twitter since its early days (you know, two years ago) and the number of newspaper-affiliated accounts continues to grow, according to Erica Smith's stats.
It's up to 303. That sounds great. Newspapers innovating with a new technology. Rah, rah!
But Smith's stats also show newspapers haven't figured out to be very effective. The average number of followers of her newspaper list is 132 followers per account.
it's not too awfully hard for an individual to top 132 followers and the reigning king of followers on Twitter is Kevin Rose, the founder of Digg and, ironically, Pownce, with a following of 55,957. He follows less than a hundred so it's not exactly personal. Twitterholic keeps a list.
Ryan Sholin offers up five ideas for the use of Twitter for newspapers (the expanded version is here):
The low-hanging fruit: Tweet your headlines.
Dr. Obvious: Live-tweet an event.
Birds of a feather: Gather intelligence from the crowd.
Data mining: Find the sources in the noise.
Network effect: Use Twitter followers as a focus group.
Certainly newspapers aren't promoting these services enough or being innovative enough to have the following of say a Mashable (10,541 followers) or a TechCrunch (22,875 followers). Both of those use it promote posts on their Web sites, but they also engage in conversation and have personality, something few of the newspaper Twitter accounts I've seen do (including the ones I manage).
And there's another problem outlined by blogger Daniela Barbosa … "I certainly find this conversation compelling and as a user have been finding myself using Twitter more and more to be 'updated' on news following news sites like @marketwatch or new media sites like @techcrunch but i still find the most compelling news alerts on Twitter come from messages that my 'trusted' twitter friends push out my way before i have a chance to read it in my in-box or on a news website that i have to visit."
The News Sentinel's Michael Silence gives a close-to-home example of news breaking on Twitter by a "trusted friend."
In short, newspapers need to become "trusted Twitter friends" of their followers (and potential followers). We've long aspired to be (or said we were) trusted sources of information, but trusted friends? Anyone got ideas on how to accomplish that? That has implications far beyond Twitter.
(Erica Smith's July Twitter stats post also contained a link to cool sort of mashup she created of Twittering newspapers. Check it out.)
Follow me on Twitter.