I took a tour of Greenspun Interactive on Tuesday afternoon, the home of Web sites for the Las Vegas Sun and Las Vegas Weekly and discovered what might be a tell for the success (hey I'm in Vegas) of president and executive editor Rob Curley.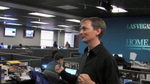 It's not the refrigerator packed with Red Bull or the 12 pounds of Gummi Bears the 50-plus person staff chews its way through each week, it's fact that Curley is just operating in a different time zone (see photo above) from the rest of the world.
There were several clocks on the wall in true world news fashion of distant cities, but these were all cities covered by the Greenspun Web crew around Las Vegas so they all had the same time except "Curley Standard Time."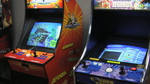 The just-completed Greenspun Interactive offices are phenomenal with a 100-inch video screen, studios rigged with enough lights and cameras for a movie premier, a "locker room" to stow gear and a "diversions" room (see photo on left).
Watch for a lot of exciting developments to come out of there — soon.