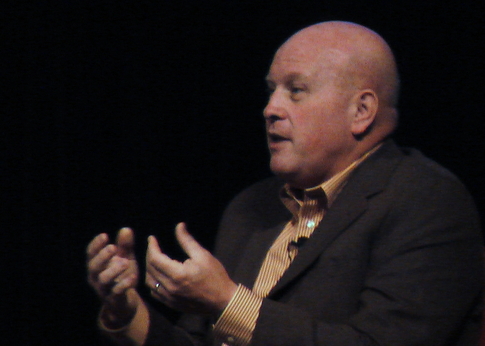 Howard Weaver, McClatchy VP for News, and Rich Boehne, CEO of E.W. Scripps, both say good storytelling is the future for newspapers. Weaver was speaking Tuesday at the APME convention in Las Vegas. Boehne spoke Saturday at the Society of Professional Journalists convention in Atlanta.
Weaver said newspapers and their editors and publishers will have to realize some things will be given up in order to excel at "mission-focused" content.
"I think doing everything incrementally worse is a death spiral," Weaver said. Great storytelling and staying mission-focused on the communities newspapers serve will knit together a growing audience, he said.
"A lot of journalism over the past 30 years is stenography — typing sports scores and what the mayor said. There's less of a need for that now," Boehne said in Atlanta.
(Another grainy photo from the APME Tuesday morning session.)
.