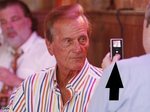 Even TV networks are using the Flip camera.
From CNNPolitics.com's "PoliticalTicker" blog is a photo of singer Pat Boone doing an interview at the RNC doing an interview with a guy with a Flip Video camera
.
The blog posting with photo is here. Click on the "video tab" to see the video.
The News Sentinel was an earlier adopter of these inexpensive, but very serviceable cameras.
(CNN Photo)