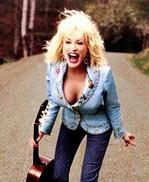 Nothing like some star power to spice up a wonkee policy debate: Dolly Parton, among others, has come out against a plan to turn over the space between the digital television channels to a wireless broadband service,
Performers like Parton and sports and entertainment venues fear the Federal Communications Commission's "white space" plan will muck with wireless microphones.
Parton said in a letter to the FCC:
"As someone who uses the white spaces and knows the value of them for the work that I and many of my friends do around the country, I ask the FCC to recognize the entertainment industry's valuable contribution to the cultural life. I can unequivocally confirm that the importance of clear, consistent wireless microphone broadcasts simply cannot be overstated. This industry relies on wireless technology and is in jeopardy of being irreversibly devastated by the commission's pending decision."
The space would be used by new WiFi devices that could deliver video. Aligned against Parton are Microsoft, Dell, and Google, which has been the most vocal. Google wants the space "freed" so it can make more billions:
When it comes to opening these airwaves, we believe the public interest is clear. But we also want to be transparent about our involvement: Google has a clear business interest in expanding access to the web. There's no doubt that if these airwaves are opened up to unlicensed use, more people will be using the Internet. That's certainly good for Google (not to mention many of our industry peers) but we also think that it's good for consumers.
Who's your money on?