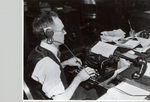 Randy Neal covers a panel discussion we were on yesterday at a journalism class at the University of Tennessee.
In addition to myself, the panel consisted of Neal, the creator of knoxviews.com, former Scripps digital exec Bob Benz now of Maroon Ventures, former News Sentinel city editor and retired federal court official Don K. Ferguson, and Knox County Commissioner, blogger, journalism professor Mark Harmon.
We were speaking to the media management class of Georgiana Vines, former News Sentinel reporter, city editor and associate editor as well as editor of a now defunct Scripps paper in El Paso.
We focused on the technology and I streamed some video from the talk and posted a few photos during it. But one thing I thought later I wished I had noted (something that often happens after my public mumblings) is that there is a thread that connects me to Neal and Benz and Vines and Harmon and Ferguson.
The form of journalism of SMS messages, Web updates and beating the competition by minutes or seconds may sound foreign to the days of copy spikes and glue pots, but it actually differs little from Ferguson's days at the desk in the newsroom.
Whatever technology knowledge or skills we need today are only the enablers to do journalism.
It's still about knowing a story, getting the story quickly and accurately, and playing it correctly that ultimately matter.
I may know about HTML and blogging platforms and Atom feeds, but Ferguson knows copy editing symbols, the vagaries of hot type and how long it would take to get a black and white photo from camera to print to paper.
No matter the tools or the medium, it's knowing what is a story and the telling of it that turns information into journalism. The technology is just what allows it. And I would say that applies as well to Neal, who denies any culpability as a journalist.
Update: We covered quite a bit of ground with that panel in terms of years in journalism. I had forgotten the exact years Don was City Editor at the News Sentinel and he wrote back: I was city editor from 1967-1970. I was a reporter from 1956-1967. I worked as a copyboy in 1951 while at UT. I had an association with the NS, sort of, from 1953-1955 while working with UPI, whose offices were inside the newsroom in those days, so it was almost as if I was on the staff.

Photo: Taken circa 1939: Greensboro, N.C., City Editor Granberry Dixon taking a story over the phone. At the far right is a glue pot and the proverbial spike. (Greensboro News-Record photo)