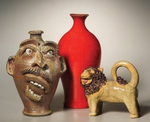 This weekend is the weekend of the dueling pottery festivals in tiny Seagrove, NC. I'm heading to the upstart one at the old Luck's Beans plant instead of the traditional one. I suspect visitors to Seagrove will be at an all-time high for this weekend because the festival war has been getting a lot of media coverage.
Here are my delicious links tagged pottery.
Photo is from "Celebration" site and is of from Crystal King's shop.