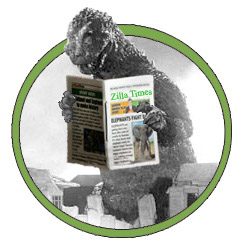 A couple of Tennessee bloggers have something new to start off 2009, NewsTechZilla, which aims to help journalists get a handle on tech to do better journalism.
Journalists are often ridiculously tech phobic. A digital camera is like a device from the Space Shuttle. They've spent days walking around the building looking for the Word Press. And they've been amazed to discover the work computer has "Windows." At staff meetings, they trade revelations about finding email on their Blackberry (and you can write email, too).
So I think NewsTechZilla could find the sweet spot for many veteran journalists — and maybe not so veteran journalists — who are discovering they need to learn a new thing or two, but find it all so baffling to even begin.
I asked the founders, one a journalist and the other a techie, earlier this week about the site. This is what they said:
Trace Sharp, aka the Newscoma, the finest journalist in "Hooterville:"
Mainly I'll be talking about old school journalism and how I'm trying to remain relevant in the new age of technology and Scott is the go-to guy on technology. We came up with this concept when he's been helping me with things going into my blog when I started hosting it. There were things coming up that I had no idea how to fix.

We realized while chatting one day when he was fixing an issue for me that there might be a market for folks like me who want desperately need assistance.

One thing some of my posts will be about is how in one generation, I've gone from using wax in paste-up to everything computerized.

Here's a post I wrote last week: Wax On, Wax Off (I used that machine in the graphic, mind you.) I'm also doing a little bit of history and information regarding news as I know it. (Example: Kisha Clubs in comparison to American journalism.)

We are also going to be utilizing featured editorials from folks on how the changes in news have impacted them even if they aren't in news and technology.

Our hope is also to create a community at NewsTechZilla where folks can ask questions if they would like (tech questions going to Scott, who be the man.)
Scott Adcox of Hear ItFrom.Us and a programmer/application engineer/all-around-techie said:
As far as niche goes, we were actually just joking this morning that it's sort of like "citizen journalism for journalists," which is a little bit different than all the "journalism for citizen journalists" stuff that's out there. I'm not sure that's something journalists would want to hear, but that was sort of the genesis of the whole project. Newscoma was moving her blog over to her own domain, experiencing growing pains, asking lots of good questions, and learning more and more.

We were talking about an issue on IM a couple of weeks ago and she mentioned that other traditional media people must be having these same problems and questions — why not start a site to help them find the answers? From my end, I've got a pretty good technical background and pick up on new stuff pretty easily, but I'm obviously not a great writer. Knowing databases, programming, and blog engine type stuff is great, but most of my techie friends know just as much or more than me and don't really care about what I have to say.

So it made sense for us to find a way to mesh together a discussion of journalism and some of the technical issues specific to journalists (real writers) who are moving online, many of them out on their own.
I think you need to bookmark it (ah, I'm sure they'll explain that.).