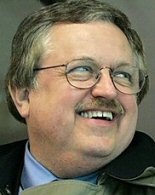 There's a weird journalism law case going on Detroit that bears watching. Pulitzer Prize-winning Free Press reporter David Ashenfelter has been ordered to divulge his source for a story about a former federal prosecutor.
The former prosecutor, Richard Convertino, claims in a civil suit that the U.S. Justice Department violated his privacy when the reporter was provided with information about his misconduct that led to dismissals of two terrorism cases.
Ashenfelter has argued the First Amendment prevented the court from forcing him to reveal his source, but that was denied by the judge in the case. Since Convertino alleged that the sharing of information with Ashenfelter was a crime, the reporter has also invoked his rights under the Fifth Amendment.
It's cases like this that cry out for a federal shield law to protect reporters. A bill passed by the House on March 31 is now under consideration in the Senate. Maybe this will be the year.
Here's some resources on Ashenfelter's case and shield legislation and laws.
Lawyers for Free Press reporter ask court to intervene
A ruling that imperils every citizen's rights
Wikipedia: Shield laws in the United States
A Guide to Journalist Shield Laws
US shield law's qualified privileges would aid journalists both at home and abroad
SPJ Praises Shield Law Getting Through House
Struggling to Report: Federal Shield Law
(Photo via AP)