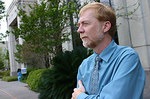 You might have missed this. The University of Georgia awarded the first "McGill Medal for Journalist Courage" on April 30 to Clarion-Ledger reporter Jerry Mitchell for his reporting that has put four Ku Klux Klansmen behind bars.
His investigation and reporting on the Byron de la Beckwith case alone was enough merit the award, said E. Culpepper Clark, dean of the Gray College of Journalism and Communication. Beckwith murdered Mississippi civil rights leader Medgar Evers in 1963.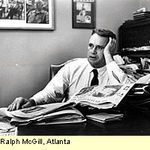 Dusty Nix, writing in the Columbus Ledger-Enquirer, said: "There is no statute of limitations on murder, nor should there ever be an expiration date on atrocities like those Jerry Mitchell has dug deep into ugly history to uncover. In that regard, his mission is not so unlike that of Simon Wiesenthal, the Holocaust survivor who spent much of his life after World War II tracking down Nazi war criminals and bringing them to justice."
Here's another piece about Mitchell in the Christian Science Monitor.
About Ralph Emerson McGill.
(Mitchell photo by Patrik Johnson, Christian Science Monitor)