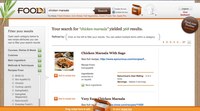 Influential tech site TechCrunch takes a look at Knoxville-based Scripps Networks' soft-launched Food.com, a beta search engine recipe site that TechCrunch heralds as the Kayak.com for recipes.
I didn't know Kayak.com was so ubiquitous to reach benchmark comparison status, but, hey, TechCrunch lives somewhere between Alpha and Beta so maybe Kayak seems like an old, established player .
What is Food.com? It's a giant recipe search site that draws in recipes from all the big time cooking sites on the Internet, hoping to solve the problem of finding that great recipe. Course, search time could be longer than prep time as you get absorbed.
Says writer Leena Rao:
I did a search for Chicken Marsala on Food.com, Food Network, Epicurious, and Foodista (a Wikipedia for recipes) and Food.com gave me the highest number of choices in recipes, from a variety of sources, and easily allowed me to narrow my search down through its detailed filters. Food.com came up with 368 results, Food Network showed 53 results, Epicurious showed 37 results and Foodista showed 2 results (although, to be fair, Foodista attempts to present the one best recipe)

With the breadth and capabilities of its search capacity and its innovative interface, Food.com is sure to gain a following as a centralized place to not only find recipes but also to store them. One feature that I thought was missing was the ability to filter recipes by chef, which is something that Food Network allows you to do. Epicurious creates a shopping list for the items in the recipes in your recipe box, which is another useful tool when planning a meal. Food.com is currently in beta, so I assume that Scripps will add more features down the line but for an initial trial, the site appears to be a strong addition to the online recipe search space.
Looks like Scripps Networks has a winner. It's obvious a great URL for a food site and if they can make the search engine work, it should attract foodies by the grocery bag. There are some other players, TechCrunch commenters liked RecipeBridge.com and SuperCook.com, but one would think that between the domain name and FoodNetwork/HGTV's promotional power on TV and on the Web, the site would have to really stink not to be dominate
In the comments, the main criticisms are "what took them so long" and an interesting objection considering the renewed paid content debate, "why registration" to use the site. If users object even to registration for a free site that has personalization features along with search, paid content is indeed a difficult dish.
Scripps Networks seems to be cooking up a lot of innovations in the food space. It also recently launched Food2.com, sort of social networking meets cooking for 21 to 34 year olds. Hey, doesn't everybody gather to gab in the kitchen?
It'll be interesting to see what else is baking away out of sight.