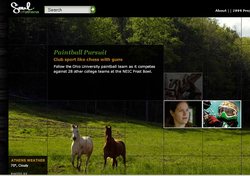 Lido Vizzutti takes a look at an Ohio University student journalism project, Soul of Athens. Pretty good stuff.
The "about" page describes the project as:
Soul of Athens is an innovative online publication that studies the contrasts of this Appalachian county through a collection of timeless stories and multimedia presentations. The project gives voice to a diverse group of individuals intertwined by a common sense of place through stories that resonate universally.
But it might be best described as cool stories about real people living in the Athens area. Explore it a bit.