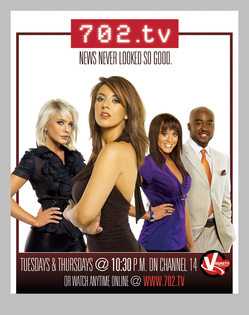 Can a newspaper do local TV? One of the most ambitious efforts yet just launched in Las Vegas with a brassy party. Hey, it's Vegas, baby.
Greenspun Interactive is doing a half-hour show called 702.tv on Tuesdays and Thursdays in the 10:30 p.m. slot on a cable channel in Las Vegas. As planned, it will go to five days a week in the fall.
And where it's trying to compete with other local TV news is not on front page hard news, but on the fun stuff about one of America's glitziest cities.
It's slick. It's fast faced. It's fun. There's also a relaunched Web site, 702.tv.
"What if there were a local newscast that wasn't about the latest accident on the 215 or the latest house fire?" Rob Curley, president and editor of Greenspun Interactive said in Las Vegas Sun article. "What if it were fun and informative? That's 702.tv."
"If 'The Daily Show,' the Travel Channel, the Food Network and E! were to try to do a daily local show in Las Vegas, this is what it might look like," he said.
The core team of 702.tv did a groundbreaking Web/cable TV show during Curley's stopover at the E.W. Scripps-owned Naples (Fla.) Daily News called Studio 55. But 702.tv is several iterations from Curley's efforts in Naples. It's more disconnected from a print product or traditional Web site than Studio 55.
Staffer Denise Spidle gives some more behind the scenes details.
This one will be fun to watch — the episodes and the project.
(One of the show's on-air personalities, Emily Gimmel, interestingly, is also in a reality show set in Louisville, Ky., called Southern Belles: Louisville. Somebody should do a reality show about hanging with Rob Curley! … Red Bull could sponsor, or Mountain Dew.)