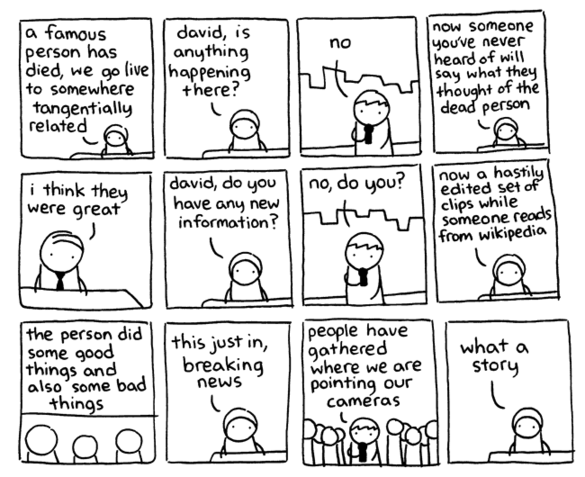 The above comic by John Campbell is a cynically funny view of news coverage of a celebrity death whether it's Michael Jackson, whose death inspired the above, or former NFL quarterback Steve McNair's yesterday in a bloody Nashville condo.
Continuing a pattern we've seen in the past with Tim Russert' s death and other breaking news events, Wikipedia was one of the earliest sources of news on the death of Michael Jackson (x17online.com, not TMZ had it first, apparently).
It even beat Twitter, says Danny Doyer of SEOmoz.org, who posted a timeline.
Well behind with reporting the news came MSNBC and CNN, but both had huge spikes in visitors, far outdistancing TMZ.com's traffic, which, however, increased fivefold and hit a three-year high. Newspaper Web sites? Not even in the equation.
And what was the trusted source that was turned to more than any other? Why, it was Yahoo, according to Hitwise, whose unique combination of search engine and content creator (often seen as a hindrance to having a clear business model) may have helped it. Some journalists were called in from off days in an "all-hands-on-deck" response, Richard Vega, Yahoo News editor, was quoted as saying.
Matt McGee at Search Engine Land has a fascinating post about how the search engines handled the load which Google first believed was some kind of attack.
We have to have accuracy and publish facts not rumors, but it remains clear: those who are right and fast are relevant; those who aren't, are irrelevant.
TMZ.com, the AOL blog often credited with getting the story first (and right), may have been the big winner. Wikipedia, meanwhile, continues to evolve not only as a encyclopedia, but as a "trusted spruce" for breaking news. And many are learning searching Twitter for real time news is more effective than using Google, which no doubt is troubling to the search giant.
Take my poll below.