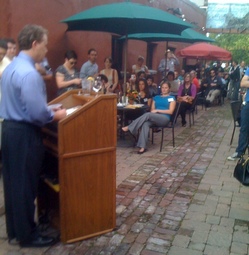 E.W. Scripps Vice President of Content Rusty Coats, speaking to the Knoxville Social Media Association on a humid Tuesday evening, talked about the future of journalism, social media and journalism and how Scripps is remaking itself in an reorganization announced less than a month ago.
Here how the listeners Twittered his speech outside at the Crown and Goose in Knoxville's Old City.
The posts are not in time order, but rather are sorted alphabetically (so I could remove any duplicates I might have picked up). The "Tweet" stream (what was Tweeted and what commentary was added) is as interesting as the speech, one of his first to an external audience since the reorganization was announced.