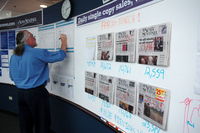 E.W. Scripps CEO Rich Boehne is getting some kudos for focusing on editorial quality and training even as the economics of the media business have forced painful cutbacks.
A large training program focused on storytelling has launched amid the media industry recession for the company's 10 TV stations.
"It's very deep and broad training in storytelling," Boehne told the Cincinnati Business Journal. "It's an out-and-out investment in the quality of the content, training hundreds of people, with no other aim than to increase quality."
Boehne said it is part of a strategy to ensure the company continues to provide compelling value to consumers. Another aspect measures and compares the company's newsrooms.
"We measure percent of content that's local. We measure story count. We measure head count in newsrooms. And we spend a lot of time saying, against some research, 'Is it any good? Is our quality increasing or decreasing?'," Boehne said.
In addition the corporate yardsticks, the Knoxville News Sentinel has one of the most extensive metrics initiatives among Scripps newspapers. Data is posted daily on a large board in the center of the newsroom called the Visual Communication Center (yeah, a consultant came up with that gem).
Among the measures: On-time performance in getting the paper out, number of corrections, number of Web first/Web only updates, number of videos posted, number of text alerts sent and most recent single copy sales. In addition, a comprehensive training matrix tracks newsroom training.
The business journal got react from well-known newspaper industry blogger Alan Mutter:
"I agree with him that quality matters," said Mutter, a former Chicago Sun-Times editor whose well-known blog, "Reflections of a Newsosaur," chronicles the daily newspaper industry's troubles.

"It's heartening to hear that kind of commitment at a time that's quite challenging for publishers," Mutter said. "It's very squishy to prove or disprove the proposition."
A Newspaper Guild representative at the company's Memphis newspaper cast a more wary eye at the quality assertions.
Photo by J. Miles Cary of the News Sentinel is of the newsroom "Visual Communication Center."