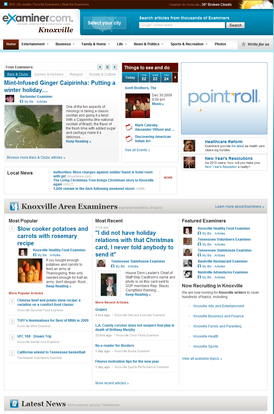 Much to my chagrin, I've been noticing Examiner.com versions of stories we're covering show up prominently in Google search results while our original journalism on knoxnews or govolsxtra is buried.
It happening a lot and not just to the sites I manage.
Examiner.com, a collection of sites that Time magazine cattily describes as "neither advancing the story nor bringing any insight," is the fastest growing news domain with Nielsen reporting a stratospheric 228 percent increase in audience in November while the big mainstream news sites like CNN.com and MSNBC.com had double-digit declines.
A poster on the Google News forum said: "This is not a reputable form of news. Any half-brained twit can write for them (and do). It's more like social networking as it is full of opinions and skimpy on facts"
But Google's famously secret algorithms keep tilling fresh Examiner.com stories to the top of search results. How does that happen?
Time answers the question like this:
So why does Examiner.com's fairly superficial posts on the big stories of the day often end up near the front of Google News' queue? "It's not a trick," says (CEO Rick) Blair. "We have almost 25,000 writers posting 3,000 original articles per day." Examiners take seminars on writing headlines, writing in the third person and making full use of social media, all of which are Google manna. But Blair thinks it's mostly the scale of the operation that makes Examiner.com articles so attractive to search engines, from which more than half of the site's traffic comes. That is, by stocking the lake with so many fish every day, Examiner.com increases the chances that Google trawlers will haul one of theirs up.
Whatever the journalism value, the Examiner is honing a formula of SEO friendly headlines and body copy, Social Media links, sheer article volume and technology approaches that ought to make news sites envious and more than a little embarrassed they haven't done the job as well with their original journalism.
Oh yeah, some are more worried about Google "stealing" their content while the Examiner just grows and grows. We better start worrying about somebody wooing the audience.
(You can click the image for a larger view of the screen shot.)